Alan Rutledge

Meeker, Oklahoma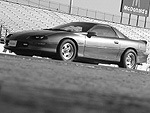 Some Personal Info

Yup, born and raised oklahoma, its true. Went to meeker schools for 13 years, and now I'am at Oklahoma State University, where I've been for 4 years now, working on an bachelor MSCS degree, graduating in may.

For a couple years now I've been into hot rods, really like the f-body scene....
However, I've been really into computers well, forever. Especially hardcore in computer gaming. Me and some friends attend LAN's as much as is humanly possible, our current clan 5th Column.(5][) Maybe you've seen me in a game as 5][Spyder?

Check my computer gaming clan site: www.thefifthcolumn.net for more info, or find me on the forums there, which I check HOURLY.

Email me at:
Internetonlyhaha@aol.com
Website:
The Mean Z